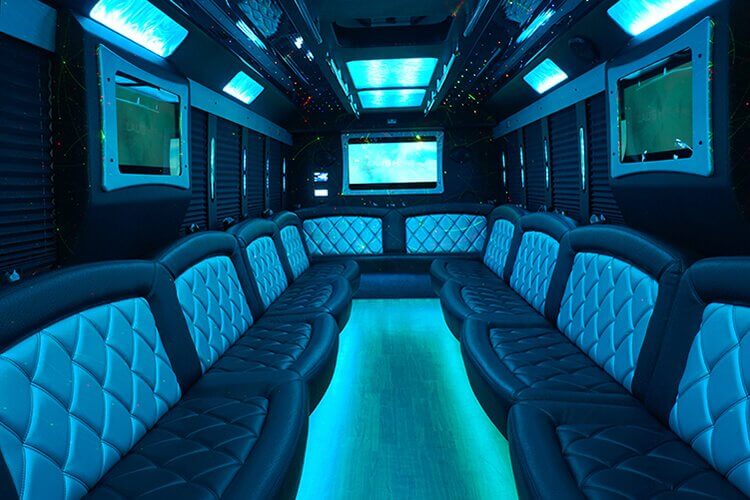 34 Passenger Party Bus
Enjoy a night out in a well dressed "tuxedo" style white and black accented limo bus. You'll be able to fit up to 34 passengers in this beautiful vehicle that is fully equipped with some of the coolest lighting around. As with all of our comfortable and luxurious party buses, our 34 passenger bus is a very popular size for many of our clientèle. With this knowledge, if this bus suits your fancy (and why wouldn't it?!) You're going to want to call well in advance as it is often one of the first buses off the books. Enjoy some of the finest luxuries money can buy, as we've spared no expense in the equipping of this one. Want to find our more? Getting in touch with us has never been easier! We're available 24/7!
Concert quality sound system for your all-night (or day) entertainment.
If you have your own media, you can bring it along! We're equipped to adapt to nearly any multimedia input devices
Televisions located in the front, back, and middle of this bus. You can enjoy your favorite videos no matter where you sit!
Brushed and maintained hardwood flooring for a luxurious aesthetic touch. Makes for a great dance floor too!
Supple leather seating. Wraparound style arrangement to encourage commingling with your guests.
Conveniently equipped with a couple of granite topped ice boxes. You bring the bottles, we'll see that it stays cool
Colorful LED mood lighting system that cycles as the bus is running
Privacy at no extra charge! Dark, dark tinted windows ensure only those on the bus know what's going on.